Black Gushers Marijuana Strain
Effects :

 Body High  |  Euphoria  |  Relaxing  |  Tingly  |  Uplifting
Gushers is a slightly indica dominant hybrid strain (60% indica/40% sativa) created through crossing the classic
Gelato #41
 X 
Triangle Kush
 strains. Named for the delicious candy, Gushers brings on the flavors with a combination of sour tropical fruits and rich creamy
cookies
in each and every toke. The aroma follows the same profile, although with a slightly herbal overtone and touches of spicy grape. The Gushers high isn't quite as bright as the flavor, with super relaxing effects that are best suited for lazy nights spent at home with friends catching up on Netflix.
The high starts with an influx of tingly euphoria that fills the back of the head with lightly arousing tingles. This quickly spreads throughout the rest of your body, leaving you pretty aroused and incredibly relaxed through and through. You won't be sleepy in this state, but rather totally at ease with anything and everything happening around you. With these effects and its high 15-22% average THC level, Gushers is said to be perfect for treating chronic stress or anxiety, depression and chronic pain. This bud has elongated olive green nugs with bright green leaves, lots of thin amber hairs and a coating of tiny amber crystal trichomes.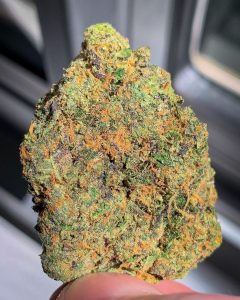 Black Gushers effects were felt immediately behind my eyes and resting on my cheekbones, first clouding and soon invading my thoughts with a heavy embrace and blissful mental fog. Intense focus/productivity may not come easy under the effects of Black Gushers. Physically, I found this strain to be highly sedative and delightfully lazy, but not necessarily a sleepy high (especially during daytime use). A full body tingle turned to melt, the effects of Black Gushers feel almost restorative as it sweeps away a whole medley of ailments for a few hours.